For this post, I decided to do something different. I had my dad write a post about one of our favorite places to visit in the Philippines. This is Eriberta spring resort in the Southernmost island of the Philippines, Mindanao. Eriberta spring resort is a local spot which has had a few upgrades since the last time I have traveled here. This resort is great for everyone from kids to families big or small.
RELATED: Travel tips for the Philippines

Eriberta Spring Resort
What is Eriberta Spring Resort?
Eriberta spring resort is a natural cold spring located in the Mindanao. The water is clean and healthy enough to drink. The resort has 4 swimmings pools for adults and children. There are also 3 smaller pools for people who want to relax and hang out. A lot of people in the area will come here to cool down from the Philippines heat and use this time for bigger family celebrations. Families in the Philippines often hold birthday parties, family reunions and more here. The resort is surrounded by natural green trees providing a great abundance of shade. Additionally, you can rent out a cottage area with tables and chairs under a shaded roof.
Resort Amenities
4 swimming pools
4 smaller jacuzzi style pools
Cottage rentals
Video Karaoke
Slides
Manmade Waterfall
Pirate Ship
Water Fountain
How much does it cost?
Entrance Fees
40 pesos for adult
20 pesos for children
Cottages
150 pesos for an umbrella type
500 pesos for a medium
1,000 pesos for large
1,500- 2,000 pesos for functional hall with video karaoke
There are also rooms for rent if you wish to stay for the weekend in a hotel room.
How to get to Eriberta Spring Resort
This cold water spring can be located on the backside of Mount Malingdang (an extinct volcano with no history of it ever erupting). To get there from Ozamiz City, take the National Highway south toward Molave / Pagadian City.  This is approximately a 2-hour drive, depending upon how fast you drive. Stop in Molave and get directions from the local Filipino Population that know of this unique cold water spring and where it's actually located.
RELATED: Top 10 Places to Visit in the Southern Philippines
My wife and I have traveled to Eriberta / Tuboran Cold Water Spring on two different occasions.  Over the years, the owners of this unique cold-water springs resort have only made it better than the previous visit. Our first trip to Eriberta was in August 2007. It was kind of hard to get there, with large boulders/rocks blocking our travel up to a dirt-packed / filled road. However, now it's much easier to get to.  The road has been paved and cleaned up with the rocks and boulders removed.
RELATED: Philippines Itinerary

NOTE: If I were to drive up there, be sure to have a vehicle that had high clearance. I personally drive a Toyota Tamaraw FX 2-Wheel Drive Asian Utility Vehicle. We have traveled with others that have used a 4-Wheel Drive Toyota Pickup and a Kia 4-Wheel Drive Vehicle as well, and have no problems traveling up the winding mountainous roads to these cold-water springs.
Fast forward to November 2014, and we noticed that the owners have really made this park a nice place.  There are adequate parking and more places to sit down and relax while the grand-kids are having fun. There are man-made waterfalls to sit under and relax. Additionally, there are also slides for the children and young adults to slide down into cold and sometimes deep (10-foot / 3-meter) man-made pools and a man-made lake with a rowboat too! They have increased the overall amount of cottages from 5- to as much as 20- or more.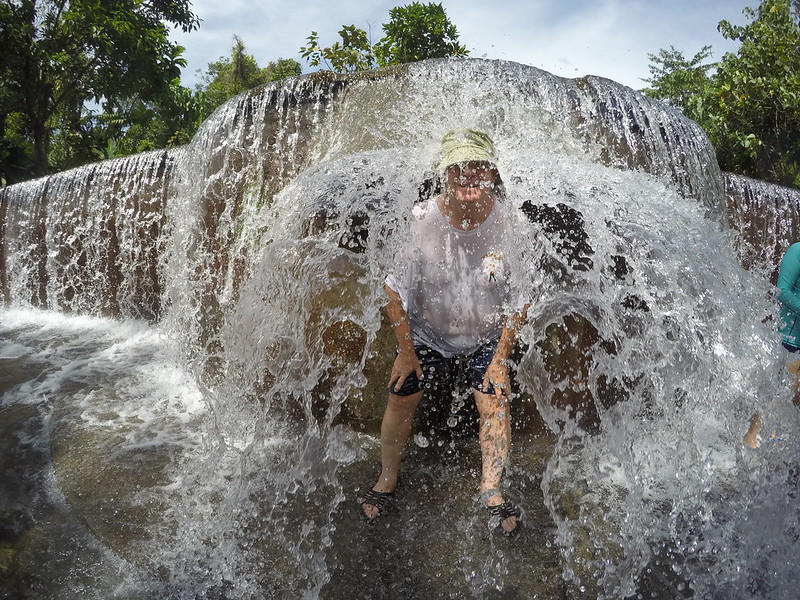 Therefore, if you are looking for a nice place to get away from it all on a warm/hot sunny day, this is truly the place to have a good time, with family members and friends alike.
Like it, then Pin it!