The city of Dublin is a wonderful city full of history, charm and many things to do. Dublin earned its name from the Vikings and was originally known as Blackpool. Ireland is a beautiful country with many beautiful naturally beautiful places to enjoy. I highly suggest visiting Dublin if you are a first-time traveler as well since English is easily spoken and everyone is very friendly. During my trip to Ireland, I've experienced a lot and created the best 2-day itinerary in Dublin. I want to share my tips and tricks on how to spend 2 days in Dublin.
This site contains affiliate links to products. We may receive a commission for purchases made through these links. Support my blog here. 
2 Days in Dublin | What to see in 2 days
Now, this solely depends on your jet lag and when you have arrived in Dublin city, you can always switch this 2 days in Dublin itinerary around. This will be a good basis and idea of what you can get done within a day. You can choose to do more or less to suit your needs.
RELATED: Ireland and Scotland Itinerary
When to visit Dublin
The best time to visit Dublin is June through August, however, we did visit Dublin during October and did not have any issues with rain or terrible weather. It was a bit colder with high winds, but it rained only 1 day out of the 10 days we were there. There is always a risk of it raining in Dublin and the rest of Ireland, so always be prepared for rainy weather. I highly suggest you pack some heavy-duty rain jackets since the winds will definitely ruin your umbrella.
Where to stay in Dublin
Dublin is a fairly safe place to stay in so there are a lot of areas that you can stay in. A lot of people may suggest staying in the Temple Bar area so that you can be close to the action and don't need to travel far to access everything. However, keep in mind that the Temple Bar area is the place with all the action. You may need to worry about loud noises till late in the morning. You will want to stay in the city center to be centrally located to everything.
If that isn't your cup of tea and don't might taking public transportation, then I suggest you stay in the Arbour Hill area with a nice Airbnb.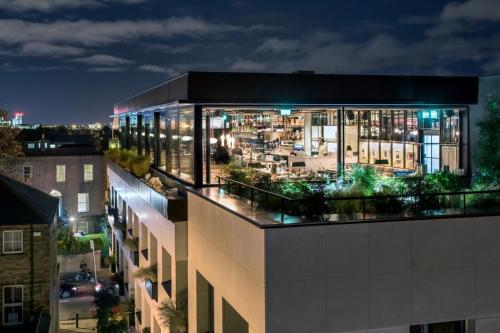 Hotels in Dublin
These are some of the best hotels in Dublin and are perfectly located. They are highly rated and have affordable rates.
How to Get Around Dublin in 2 Days
There are a few ways to get around for your 2 days in Dublin. Our preferred way to get around was by bus. We purchased a 7-Day LEAP Pass at SPAR inside the airport for about 40 euros. This was a great investment since we were able to use it all week long. We didn't stay in Dublin the entire time and took several Dublin day trips, but we were based there and traveled on day trips throughout the rest of the country.
Second, there are plenty of taxis to take around the area. I suggest you download the mytaxi app and you can request taxis in advance, pay through your phone or choose to pay cash.
You can also look into purchasing the Dublin Pass if you want pre-paid and selected activities for your 2 days in Dublin.
How many days in Dublin
Well, this is always so subjective. I would say that 2 days is sufficient enough to stay in Dublin. However, you can also make Dublin your home base so that you can explore it more throughout the evening for dinner and drinks. It's easy to grab a lot of tours out of Dublin especially if you don't feel comfortable driving in another country. Dublin itself isn't a very large city, but there are a lot of great restaurants and drinking spots which makes it a hot spot to spend some time in if you enjoy the nightlife. Ultimately, how many days in Dublin depends on you and your personality.
Where to eat in Dublin
There are so many places to eat in Dublin and I've already included several in the Itinerary below. However, if those restaurants do not appeal to you, check out some of the other restaurants below. Be sure to check out the bar street where you can find a lot of these restaurants and bars.
Things to do in Dublin Ireland
2 Days in Dublin Itinerary – Day 1
Admission Fees
Whiskey Blending Class – €60.00
Bow St. Experience – €20.00
Cocktail Making Class – €50.00
Whiskey Tasting Experience – €30.00
Operating Hours
Wednesday 10:00am–7:00pm
Thursday 10:00am – 7:00pm
Friday 10:00am –8:00pm
Saturday 10:00am – 8:00pm
Sunday 10:00am – 7:00pm
Monday 10:00am – 7:00pm
Tuesday 10:00am – 7:00pm
If you are an Irish Whiskey fan or fan of drinking in general, then you have to add this tour to your list. Jameson is my favorite whiskey out there and the tour is well balanced and there are plenty to choose from. You can choose to do the basic Bow St. Experience which still includes a tasting which provides a scotch whiskey, American whiskey, and Jameson for comparison. This tour costs about 20 euro.
If you are a more established whiskey drinker, then I highly suggest you do a Whiskey Blending Class for about 60 euro which also provides you with your own bottle you personally make. These should be booked in advance as they fill up quickly. We were able to get the Bow St. Experience on the day of, but the others were full or were at later times during the day.
RELATED: 7 Best Whiskey Distilleries in the World
Lunch at the Riddler (if you choose not to do the food tour)
Fees
€60.00 – €120.00 depending on the experience
Operating Hours
2:00 pm tours
6:00 pm tours
I highly suggest you do a food tour in Dublin. Irish food is about home cooking and making sure they fill you up. The Irish are hospitable people and they want to make sure you are satisfied. The food tour is an amazing experience because you will get a taste of some traditional dishes and creative ways they use potatoes. At the end of the tour, you will also learn how to make your own Irish Coffee! We did the €60.00 tour. This was one of my favorite things we did during our 2 days in Dublin. Book your tickets here. 
Take a stroll along O'Connell Street
This is a popular street that goes along the North side of the river. It's a great place to stroll and look through part of the city. There are several important monuments to Irish history.
Admission Fees
Classic Tour – Adult €18 | Senior €16 | Student €16 | Child €9 | Family (2 adults & 2 children) €45 | Group (+10) €15pp
Premium Tour – Adult €22 | Senior €20 | Student €20 | Family (2 adults & 2 children) €53 | Group (+10) €19pp
Whiskey Blending Experience – Adult €28 | Senior €28 | Student €28 | Group (+10) €26pp
Operating Hours
10:00am – 6:00pm
Whiskey Blending Experience Tours – 2:00 pm and 6:00 pm daily
On to more drinking. If you didn't get my hint that the Irish love to drink, whelp this visit continues with even more drinking. The Irish Whiskey Museum has a lot of Whiskeys to choose from and a tour to taste them all. Book your tickets here. 
Drinks at Temple Bar
Now don't get confused with the Temple Bar Pub. The Temple Bar is technically a district or neighborhood in Ireland that consists of a cobblestone road. You can, however, go to the Temple Bar Pub and enjoy a drink there if you want. Additionally, be careful of the bars though, some of the bars throughout the night will change the price of the drink on the hour every hour. That is how they get your money and that is how they get you to move on to another pub or bar.
Operating Hours
Breakfast: Monday – Friday 10:00am – 11:45am
Lunch: 12:00pm – 5:00pm, Sunday 12:30pm – 5:00pm
Dinner: 5:00pm – 9:45pm, Sunday 5:00pm – 8:45pm
If you happen to still be hungry, I highly suggest you have dinner at Matt the Thresher especially if you love Seafood. This is a great place to get some local and fresh seafood from oysters to mussels to cockles and clams. I highly recommend you make time for this restaurant sometime during your trip even if you can't do it on this day.
2 Days in Dublin – Day 2
Operating Hours
Monday – Friday: 8:00am – 7:00pm
Saturday: 9:00am – 7:00pm
Sunday: 9:00am – 7:00pm
Alright, so now it is time for a delicious breakfast! Breakfast at the Queen of Tarts is absolutely delicious. You can also pick up some small bakery goods, cake, pie, coffee and more to go. We actually did a sit-down breakfast and enjoyed a lot of delicious food. The plates are reasonably sized.
2 Days in Dublin must include Dublin Castle
Admission Fees
Adult €10
Senior (60+) €8
Student (valid student ID required) €8
Child (12-17) €4
Family (max. 2 adults & 5 children) €24
Operating Hours
9:45am – 5:45pm (last admission 5:15pm)
Dublin Castle is a small castle in central Dublin. The castle was burned down in the 1600s and only a small portion of the original castle is left. The castle was then rebuilt with more of a palace-style which was added to the castle itself. At the castle, you will see tow parts that look different from the medieval style to a more recent palace style.
Purchase your tickets in advance! I highly suggest you visit Dublin Castle early so you can enjoy photos of the castle without people in them. You can take your time on the exterior but once your time for the tour starts, you will be let through all of the different rooms. This tour lasts about an hour and a half to go through the whole place. There are many rooms and places to explore. After the tour, you can then wander around on your own and revisit some of the places you may have missed or wanted better photographs of. You can't miss this castle tour during your 2 days in Dublin.
Admission Fees
€11 – 14
Operating Hours
May-Sept: Mon-Sat 8:30am – 5:00pm, Sun 09:30am – 5:00pm
Oct – April: Mon-Sat 9:30am – 5:00p,, Sun 12:00pm – 4:30pm
After your tour at Dublin Castle, head down towards Trinity College which is within walking distance from Dublin Palace. You would have seen the college on Day 1 when visiting the Irish Whiskey Museum. At Trinity College, you will see the famous old library known as the Book of Kells. The Book of Kells has been featured in many shows, social media posts, and more. This is one of the largest libraries around the world with an extensive collection of books dating from the 6th to 7th centuries.
I highly suggest you purchase your tickets in advance since these tickets are frequently sold out. Additionally, the long line will only make you wish you had tickets in advance. You can purchase Book of Kell tickets online and have them scanned in person at the Book of the Kells. Furthermore, if you want more of a tour, you can also purchase an audio tour for 5 euros.
Lunch at Klaw
Operating Hours
Sun: 11:00am – 10:00pm
Mon-Wed: 12:00pm – 10:00pm
Thu – Fri: 12:00pm – 11:00pm
Sat: 11:00am – 11:00pm
Time for lunch and time for more seafood and exploring around the Temple Bar area. Klaw had an amazing chowder but the reason we chose to go here was to get some amazing oysters. Now, keep in mind that the oysters in Ireland are saltier than you may be used to if you are from the United States. Additionally, they had so many different flavors and styles that made a place worth visiting for 2 days in Dublin.
Admission Fees
€18.50
Operating Hours
9:30am – 7:00pm (last admission is at 5pm)
The Guinness Storehouse is an important and popular stop for your 2 days in Dublin. This tour is a very long tour so be sure to spend quite a bit of time here. I think we spent about a good 2-3 hours and enjoyed a drink at the very top with a beautiful view of the city. For the storehouse, you do not need to purchase tickets in advance since there are so many areas to explore and wander in.
This is a self-guided tour experience, but the are other activities that you can experience and so much to see and do. This place is like Disneyland for adults! The experience was more than I ever expected it to be. You also receive a free pint at the end of the tour of Guinness draft and a few others. Book your tickets here. 
Explore Kilmainham Gaol
This is a prison museum where many of Ireland's political prisoners were placed. It was opened in 1796 and closed in 1924. Listen to the story of the Invincibles, the stabbing of Lord Frederick Cavendish, and more.
Admission Fees
Tasting: €15
Trinity Tasting: €20
Single Malt Tasting: €30
Operating Hours
10.00am – 5.40pm
Yet another whiskey tour to experience in 2 days in Dublin. Teeling is a newer Distillery in Ireland and the first new Distillery in 125 years. The Irish Whiskey Business has always been through the older and established distilleries. Distilleries like Jameson and Powers partnered together when prohibition occurred in order to stay afloat.
Teeling is worth the visit because as a newer establishment I would say they are the underdogs in success. Furthermore, they bring a lot to the table and much of Ireland is excited to see what they come up with in the future. Book your tickets here. 
Dublin in 2 days should include Dinner at Porterhouse Bar
Operating Hours
Mon-Wed: 11.30am – 12:00am
Thurs: 11:30am – 01:00am
Fri-Sat: 11:30am – 02:00am
Sun: 12.00pm – 12:00am
After drinking the day away at several of the tours, I suggest you get yourself a nice meal at the Porterhouse Bar. Ultimately, there are so many delicious food options here from small bites to burgers and pub food. I couldn't decide on anything so I ended up purchasing a lot of the appetizers and small bites to share. Everything was absolutely delicious.
After Dublin, you should consider taking a Game of Thrones tour in Northern Ireland.
Other things to do in Dublin | Another Day Dublin Itinerary
Christ Church Cathedral
Irish Emigration Museum
Green Shopping Centre
Day Tours in Dublin | day Dublin itinerary
If you plan to take some day trips from Dublin and a guided tour, I highly suggest you take the time to check out some of these day trips. I found Dublin to be a great location to stay at instead of moving luggage all around town. These are some of the best Dublin day trips to take. On many of the day trips, you have to meet at Molly Malone Statue.
Map of Dublin | Plan your 2 days in Dublin
Did you like this article? Support this blog by donating to the button below. 
There you have it my 2 Days in Dublin for your perfect Dublin Itinerary. I hope you liked this post.  Finally, if you enjoyed it be sure to share, pin and comment!
DISCLAIMER: Oftentimes you will find that I've included links to certain hotels/tours/products/services. If you purchase anything through these links, I'll receive a commission. It won't cost you anything extra, but it will help keep this blog up and running.